The north shoulder of the Battle of the Bulge saw many troop movements involving a mixture of green units and battle-hardened outfits. One of the latter was the famous 82nd Airborne Division.
Though trained for tough engagements, the paratroopers suffered high casualties under bitter combat conditions during the Battle of the Bulge. Several decades after the war, their former battleground released a small part of its tumultuous past in the form of an American dog tag. It was discovered in the vicinity of Trois-Ponts, Belgium, and bore the name « Hubert G. Pack ».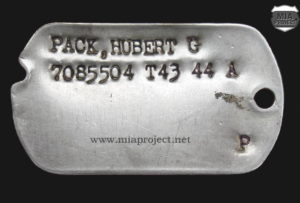 It took considerable time to identify Pack's unit. His name didn't appear in the team's database, and the National Personnel Records Center had no 201-file for him. The search for the serviceman seemed at an end. One day, while updating the MIA Project's database with new information, Pack's name appeared on a list of 82nd Airborne troopers awarded the Good Conduct Medal.
The list identified Hubert G. Pack as a member of Company F, 505th Parachute Infantry Regiment and provided the first elements to locate the trooper. Speder established contact with the 505th PIR association whose webmaster published a request for information. There were few former members of F/505 still alive, but one of them, Spencer F. Wurst, had published a memoir called "Descending from the Clouds". When Speder received a copy of the book, he first checked the index for Pack's name. It was there.
Hubert Pack was from Dickson, Tenn., and served as radio operator in Wurst's squad. The two soldiers had joined Company F at the same time, just after the Sicily jump.  Both men participated to all subsequent 505th engagements, including three combat jumps. Pack received a Silver Star for gallantry in action in Normandy. On June 09, 1944, his platoon was pinned down by intense enemy small arms fire. He voluntarily made his way through machine gun fire to find a covered escape route for his platoon. When a head count revealed that 4 men were missing, he returned in the hornets nest and brought back two. He went back a second time only to find the last two men dead within a few feet from a German position (GO 03, 1945 – 82 AB). Pack also was awarded a Bronze Star for heroic conduct in Holland on September 20, 1944. He volunterily remained in an exposed position to keep open communication between his platoon and his company and thus directing effective fire on enemy guns (GO 02, 1945 – 82 AB).
Spencer Wurst, who received two Purple Hearts in Normandy and a Silver Star in Holland, recalled Pack as being a fearless combat soldier. He described a specific incident that occurred in Holland and depicts Pack's strong character.       

"…After a few days in the foxhole, Pack got bored. In fact, we were all getting a bit bored. Pack had figured out a covered approach to one of the houses that contained a German machine gun, so he approached me with the idea. He wanted to crawl out around four hundred yards to our left front, get within range of the house, and take it under fire with our 2,36 inch rocket launcher. I wouldn't have ordered anyone to do this, but since it was Pack's idea, I approved it.
Pack got together a two man rocket launcher team and one other man. The four of them crawled out, finding cover until within good rocket launcher range of the house. I could see Pack and his team very clearly. They fired the first rocket at seventy five yards from the house. It bounced off the wall and never did explode, but the second one went right through a window.
It was like hitting a beehive with a stick. It burst alive instantly, shooting out a great deal of fire from the house and the position around it. We also received artillery and mortar fire. Fortunately the Germans did not pick up Pack and his group. They started working their way back under fire, and the only way we saved them was by telling the FO from the 81mm mortar platoon to fire smoke rounds. They dropped dozens of them between us and the house, as close to the group as possible and in front of the enemy position. The wind was right, Pack and his men made it back without casualties.
After that I don't think we got bored much. I said "No more of this crap! It's live and let live as long as we're out here in this exposed position …"
A Morning Report of Co F, 505th Parachute Infantry Regiment dated December 30, 1944, shows Hubert Pack promoted to T/5 and returning to his company after following a pathfinder course. Fortunately, he was not with the company during the fierce encounter with elements of the KG Hansen and KG Knittel on the heights overlooking the train station of Trois Ponts, Belgium, on December 21, 1944. The company lost a few good men that day.
After the war, Spencer Wurst rejoined the National Guard and eventually retired as Lieutenant Colonel. Hubert Pack probably returned to his hometown in Tennessee and nobody heard of him thereafter.
In 2010, Speder and his wife visited Spencer Wurst in his upstate New York home and discussed old army days and Pack's whereabouts. One source showed him as deceased in 1946 but there was no obituary and no known grave. Through various military and civilian channels, the search for Hubert Pack continued but yielded nothing new.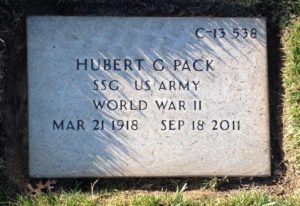 In the fall of 2012, the search finally ended when the former Tennessean appeared in a California obituary. The date of birth matched, it was the right man. Hubert George Pack had passed away on September 18, 2011 at age ninety-four in San Jose, California. He is buried plot C, row 13, grave 538 at San Joaquin Valley National Cemetery.
May a reader of this article be in position to provide a photo of Hubert Pack in uniform or additional information, we remain highly interested.