PFC John T. Rakoci
Company H, 394th Infantry Regiment, 99th Infantry Division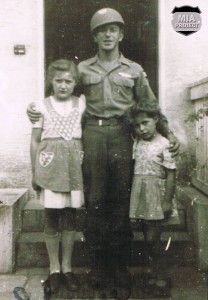 Pennsylvania native John T. Rakoci, like millions of his compatriots, was inducted in the Army in 1943. He left the family business and joined the 99th Infantry Division for basic training. He served throughout the war with Company H of the 394th Infantry.
In their search for missing soldiers of the 2nd Battalion of the 394th Infantry, MIA Project members repeatedly searched the immediate vicinity of the 2nd Battalion headquarters to pinpoint the exact location of the aid station. In the process, they unearthed large amounts of abandoned equipment. Among the equipment surfaced a mess kit cover crudely scratched with "RAKOCI" and a barely legible number "6010". A search in the team's data ba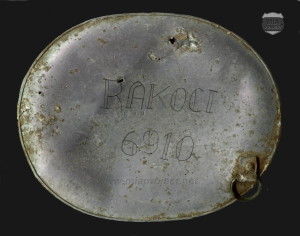 se turned out to be fruitless on both elements and the mess kit ended up in a show case of a local museum.
Years later, consulting the data base for information, a "RACOCI" surfaced, with an Army Serial number ending with "6910". The troublesome elements were double checked once again. It appeared that it was the same soldier. Apparently the Army had misspelled his name (Racoci instead of Rakoci) in the official records and after a careful cleaning of the mess kit cover, "6010" turned out to be "6910". With these new elements, the time had come to search and locate the former owner.
Altoona re
sident and fervent supporter of the MIA Project, retired CSM Joseph E. Keirn volunteered to search for the Rakoci family. It was located in West Middlesex, PA. Unfortunately John had passed away in 1976 but his wife, Edna, was still living. When Joe Keirn called, it was quite a surprise for her and her family. The mess kit cover was sent back to the family where it stands now among John's war souvenirs and army papers. The mess kit story soon went beyond the family circle and got a large coverage by local newspapers and TV.