Sgt Edward R. Nalitz
Co M, 39th Infantry Regiment, 9th Infantry Division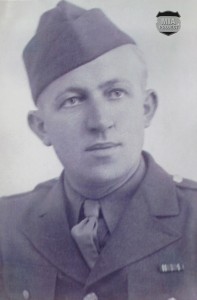 Edward R. Nalitz was born and raised in Dormont, Pennsylvania where he joined the local volunteer fire department. Ed was in his mid-thirties when he volunteered for the army. At that time, he had a fiancée who was a widow with three children. He promised to marry her, but only after the war. He feared she could become a two-time widow. When he journeyed overseas with the 39th Infantry Regiment, he took a small piece of home with him.  His fireman badge. He carried it across North Africa, Sicily, France and Belgium. Engaged in heavy fighting with his unit north of the Elsenborn Ridge, he lost the badge in the mayhem. After the war, Ed came back home with a Bronze Star and a Silver Star. He married his fiancée and resumed work as a printer and became a father.  He died in 1969.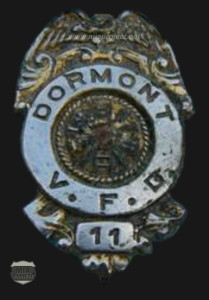 In 1998, the badge was found in a dugout at a reserve position of 3rd Battalion, 39th Infantry, north of Elsenborn Ridge. It read "Dormont V.F.D. – 11."
Seel located Dormont, a suburb of Pittsburgh and contacted the city hall. His letter ended up on Fire Chief Mike Auth's desk. A search for fireman #11 began. During WWII only three firemen served in the Army and only one in ETO, Edward Nalitz. Regrettably, Ed had passed away but his wife was still alive at age ninety.  Unfortunately, she hung up the telephone when the chief tried to explain the purpose of his call. He also found Ed's son, Edward Junior, who lived in the Pittsburgh area.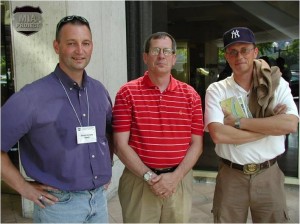 The chief contacted him and received a positive response. The story of the badge appeared largely in the local newspapers.After exchanging emails for two years, the first meeting with Ed's son occurred in 2002 at a hotel in Pittsburgh. MIA Project members JL Seel and JP Speder were there attending a 99th Infantry Division Association annual reunion.
In May 2008, Seel guided Ed's daughter, Mary Lou Carlson, to the foxhole where her dad lost his badge sixty four years earlier. There, he handed her the badge. Ed's wife would turn 100 years old in October, the badge would be a perfect birthday  gift.