The 254th Engineer Combat Battalion (part of V Corps and the 1121st Engineer Combat Group) operated in the Elsenborn-Bütgenbach-Manderfeld sector. The battalion's letter companies manned sawmills, repaired roads, and carried out tasks in support of the 2nd and 99th Infantry Divisions.
 
The engineers bivouacked in forested areas around Büllingen. The men expected to spend the winter in their bivouacs which consisted of comfortable log huts erected in large holes. The Battle of the Bulge changed everyone's plans. On the second day of battle, December 17, 1944, the engineers fought as infantry to defend Büllingen and stood bravely in the path of Kampfgruppe Peiper. The following day, the battalion withdrew westward, abandoning their bivouacs and equipment.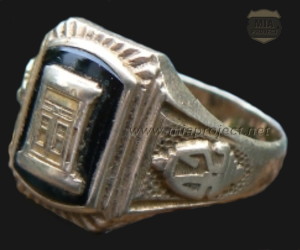 In May 2007, in the former bivouac area, Jean-Louis Seel recovered an interesting school ring inside a heavy duty leather glove. The ring probably remained trapped in the glove when it was removed from someone's hand.
 
The ring bears a graduation year, « 1942, » as well as the initials « AJP. » Unfortunately, no match was found in the team's database. The original owner remains unidentified despite a lengthy search to identify the school and help from the 254th Engineer Combat Battalion Association.
 
This gold ring was recovered atop a large foxhole. That specific location was occupied by the 254th (combat engineers from Michigan). The unit had a large bivouac there from October to December 1944. It is of course possible that the ring belonged to a soldier from another unit.
 
Perhaps someone reading this story can help.