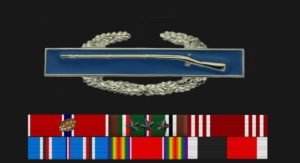 Alvin Rex Whitehead was born on April 28, 1925 in Grace, Idaho.
He joined the ASTP at Louisiana State University in 1943. When the program was disbanded, he was transferred to Company H of 394th Infantry as mortar gunner. He made all the way to VE-Day with his company. See his memories.
Member of the 99th Division Association, Rex never forgot those he left behind in Belgium. He joined the MIA Project and spent countless hours collecting valuable information. His efforts led to the recovery of his friend Stanley Larson, reported MIA on December 16, 1944.
Rex loved his country and believed that freedom was worth fighting for. He believed that responsible people respond. He believed in giving generously and equally. He liked good friends, good jazz, good clothes, good books, good Swiss cheese, a good martini and a good story. He wrote well and often, corresponding with friends, family and the newspaper. He had instant recall for a joke or a story. He was a gentleman who could make anyone feel at home. He was a testament that stubbornness can go a long way.
He passed away on November 24, 2003 in Logan, Utah, at age seventy eight.