PFC James L. Larkey
1925-2012
James Leo « Jim » Larkey, 87, of longwood Florida, formerly of South Orange, N.J. and North Caldwell, N.J., passed away on Nov. 14, 2012.
Jim was born on January 31, 1925, in Red Banks, New Jersey.  He made his way through the attended Weequahic High School, and graduated from Columbia High School in South Orange, N.J. He played varsity football and was named to the N.J. All-State football team in his senior year. He attended the University of Pennsylvania for two semesters until he was old enough to enter the U.S. Army in 1943. He qualified for the ASTP (Army Specialized Training Program) at John Tarleton Agricultural College in Stephensville, Texas. When the program was disbanded early 1944, he joined the 99th Infantry Division in Camp Maxey Texas and was attached to Company I, 394th Infantry. He fought all his company actions until VE Day.
Upon returning from the war, he finished his college studies and graduated from Rutgers University with a degree in business. He spent almost his entire professional career working in the family-owned chain of menswear stores called The Larkey Company, which was founded by his great-grandfather, and became president. In 1969, he was recognized by the N.J. Manufacturers Association as Retailer of the Year. He attended many reunions of the 99th Infantry Division Association, spending cherished time with his platoon friends and meeting and sharing stories with other veterans.
His silver ID bracelet was recovered on the battlefield and this triggered many memories of the Battle of the Bulge (See bracelet story).
Jim moved to Florida in 1982. He married the love of his life, Kit Larkey, and together they raised two daughters and a son. He is survived by his children, Dr. Karen Lark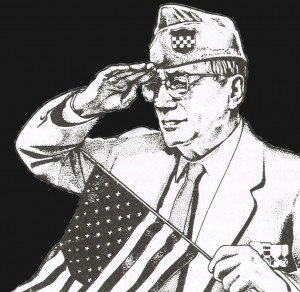 ey, Kathy Larkey Jespersen (Tighe), and Jim Larkey (Anita); his grandchildren, Lisa Jama (Keith), and Andrew Larkey; his great-grandchildren, Layla and Aden; and his sister-in-law, Phoebe Larkey. He was predeceased by his wife; his brothers, Lewis and Morris, and his sister, Joan.