John F. Smith, Jr.
1921-2000
Company A, 394th Infantry Regiment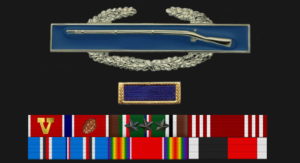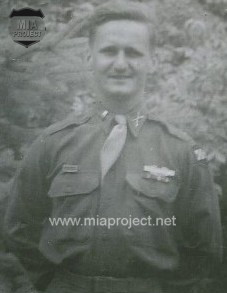 Helen Smith gave birth to John Jr at her Darby, Pennsylvania home on June 9, 1921. She and her husband, John Sr, already had three children, Tom, Mary and Helen.
At school, John Jr was allowed to skip the second grade and graduated from Darby High School in June 1938. He also was the student manager of the baseball team.  He himself was a very good pitcher and actually threw a no hitter while playing for a private baseball team. His high school coach would let him play as he was deemed « too short » standing at 5′-3″ tall.  After high school he held several jobs and finally landed a position at the Philadelphia Electric Company in 1939. With the exception of serving in the Army during WWII, he would remain employed with them until his retirement in 1983.  He served as a storekeeper for the company.
John received his draft notice and after boot camp, he joined the 394th Infantry Regiment of the 99th Division. He was assigned to Company A. He quickly rose in the ranks and by the time his unit was deployed in Belgium he was squad leader. With his battalion, he fought around Losheimergraben, Belgium, in the early hours of the Battle of the Bulge. During the hectic two day engagement, his leadership and combat aptitudes earned him a Bronze Star for heroic achievement. After his Battalion pulled back to the Elsenborn Ridge for redeployment and reinforcement, he received a battlefield commission as 2nd Lieutenant. He remained within Company A as platoon leader until VE Day.
At war's end, he was transferred to the 1st Infantry Division for occupation duty. He was promoted to 1st Lieutenant and assigned in Furth, Germany, as Provost Marshall. In this new assignement, he was involved with the guard details at the Nüremberg Trials.  He returned to the United States in September 1946. A ferw weeks later, on October 12, 1946, he married his girlfriend Dorothea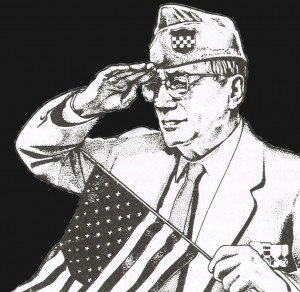 Haughey, and remainded so until her death in December 1989. Together, they raised four children, two boys and two girls. John was an avid golfer his entire life and enjoyed playing as much as he could.
John passed away on September 8, 2000 at his residence of Upland, PA.
Photo and information courtesy James Smith