Robert S. Robison
1915-1970
HQ Co, 99th Division HQ.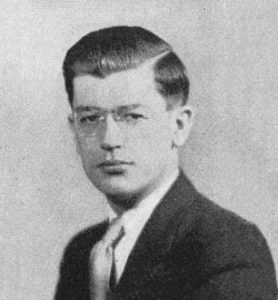 Robert S. Robison was born on June 22, 1915 in Curwensville, Pennsylvania. According to his classmates of the local public school, Robert was always sketching and drawing wherever he was and whatever he was doing. He graduated from high school on May 18, 1932, and was listed as the « Class Artist » in the year book.
In September of 1932, he attended the Carnegie Institute of Technology, School of Art, in Pittsburgh, PA. While a college student he earned extra money by painting signs for several local businesses. In June 1936 he graduated with a Bachelor of Fine Arts degree.
With his BFA in the pocket, he moved to New York City to pursue a career as a freelance book illustrator and commercial artist. In 1937 he drew Lance Darrow comics for the Centaur Comics Group under the pen name « Robbie. » His talent found work drawing pen and ink story illustrations for pulp magazines. His work appeared in Ace Sports, Champion Sports, Ten-Story Sports, 12 Sports Monthly, Ten Detective Aces, Private Detective, and Star Detective.
Robbie Robison was drafted on November 21, 1942 and  joined the 99th Infantry Division. He was preceded by his talent and joined the division headquarters as writer and artist for the division newspaper, the "Checkerboard".
Robbie's prolific and wonderfully imaginative work began to appear in the January 1943 issue of the division newspaper with the exploits of a hapless G.I., called Private Van Dorn. His drawings were both serious and humorous. Besides the Checkerboard newspaper, Robbie's drawings appeared in the Paris Texas News, the newspaper of Camp Maxey and its neighborhood and also documented many division, regiment and battalion publications
Robbie, who didn't forget that he was drawing for GIs who lacked feminine companionship, also offered many morale boosters in the form of sketches of gorgeous, shapely women. He was a true master in many kinds of art work and also contributed to Yank Magazine and The Stars & Stripes. After VE Day he worked for the Army Office of Public Relations in England. He returned home in September 1946.
His post war career started at the CIT as art instructor where he was hired as Assistant Professor of Drawing in the School of Applied Arts at the University of Cincinnati in Ohio.
Two years later, he was Chairman of the Commercial Art Department at Washington University in St. Louis, Missouri. Robbie illustrated over fifty children's books, including The Gay Poet – Eugene Field, Piang – The Moro Chieftain, James Whitcomb Riley – Hoosier Poet, Walter Johnson – King of Pitchers, Sailor Jack & Eddy, and Little Alfie, which he wrote and illustrated. He was Art Director of the first thirty film strips on American history produced by Concordia Press.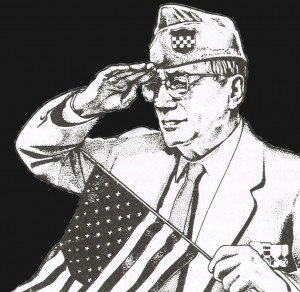 On January 23, 1958 he was elected President of the St. Louis Art Director's Club. He was again elected President ten years later.
Robert Shearer Robison passed away on November 27, 1970 in St. John's Hospital in St. Louis at age fifty-five.