Harry E. McCracken
Headquarters Co, 395th Infantry
(1922-2018)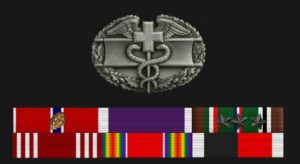 Harry McCracken was born on May 16, 1922 in Westmoreland City, Pennsylvania, to Frank and Cora McCracken.
After completing 4 years of high school, Harry volunteered to join the Marines. Before it was administratively acted, his draft notice arrived and he was ordered to report at Camp VanDoorn, Miss. on January 4, 1942. He was attached to the 99th Division where he was trained as a medic and served with the Regimental Aid Station of the 395th Infantry Regiment. Two years later, Harry and his unit were on the front, in Belgium. His main task was to supply the four forward aid stations of his regiment with the needed medical equipment.
" … our aid station was located in Rocherath the first three days of the battle …", remembered Harry, "… we had set up in a house on the outskirts of the town and by the 18th of December, we were receiving many casualties. That evening an attempt to evacuate the bodies back to the Graves Registration area on litter jeeps was unsuccessful. So we returned to our station and placed them alongside our station house in neat rows. All access road to the west were blocked and Ambulances could no longer get through the village. The next morning, we were ordered to load the trucks with equipment and supplies and move to Elsenborn. We hoped on the nearest vehicles and drove cross-country…"
Upon reaching the town, Captain Fyvie, the Regimental Surgeon, established his new aid station in the school building of Elsenborn.
"… the building was sturdily built …", continues Harry, "… as we settled in the weather worsened, became colder and it started to snow intermittently. We had many injuries coming in from the Elsenborn Ridge with trench feet. On December 24, Joe Mannor and I were coming back from Malmedy with medical supplies when we were straffed by a German plane at an intersection. The MP directing traffic was wounded and our jeep was completely demolished. I went back to take care of him after he was bandaged and cared of, we continued on foot towards our aid station. As I slogged along, my right foot felt squishy. I looked down and discovered I had flesh wound in the lower calf and blood was running in my boot. When we came back, Capt Fyvie decided I should be evacuated but I refused. He removed the bullet pieces and insisted to evacuate me to a field hospital. I refused for the second time. I later received a Bronze Star for treating the injured MP before attending my own wound. Truth be known, at the time, I had not yet discovered I was wounded !! …"
Harry served with his outfit until VE Day, receiving the Combat Medic Badge, a Purple Heart, a second Bronze Star and treating more wounded. After remaining briefly in occupation duty, he came back to the States on January 4, 1946, exactly three years after he was drafted.
He was quartered at Fort Indiantown Gap for a few more days and officially discharged on January 9, 1946.
Harry worked for the Westinghouse Electric Corp  in East Pittsburgh and continued to serve as member and former chief of Westmoreland City VFD, a life member of Penn Township Rescue 6, on the Penn Township Youth Commission, was a Medicare Counselor, was a longtime volunteer for Meals on Wheels. Harry joined the 99th Infantry Division Association and served as president and Archive Chairman. He played a key role in the creation of a 99th exhibit in the Soldiers and Sailors Museum in Pittsburgh.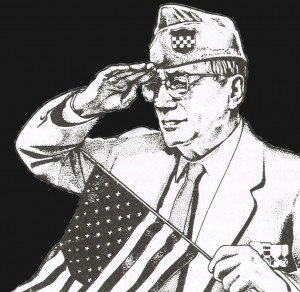 After a long life of service, Harry McCracken passed away on May 2, 2018 at age 95 in Walden's View Personal Care Home.
"I feel extremely honored to have served as a medic in the 395th and shall remember and admire the courage and inner strength shown by the men on the Elsenborn Ridge. »