Harry E. McCracken
Headquarters Co, 395th Infantry
(1922-2018)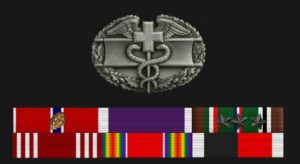 Harry McCracken was born on May 16, 1922 in Westmoreland City, Pennsylvania, to Frank and Cora McCracken.
After completing 4 years of high school, Harry volunteered to join the Marines. Before it was administratively acted, his draft notice arrived and he was ordered to report at Camp VanDoorn, Miss. on January 4, 1942. He was attached to the 99th Division where he was trained as a medic and served with the Regimental Aid Station of the 395th Infantry Regiment. Two years later, Harry and his unit were on the front, in Belgium. His main task was to supply the four forward aid stations of his regiment with the needed medical equipment.
Harry served with his outfit until VE Day, receiving the Combat Medic Badge, a Purple Heart, two Bronze Star Medals and treating more wounded. After remaining briefly in occupation duty, he came back to the States on January 4, 1946, exactly three years after he was drafted. He was quartered at Fort Indiantown Gap for a few more days and was officially discharged on January 9, 1946.
Harry worked for the Westinghouse Electric Corp  in East Pittsburgh and continued to serve as member and former chief of Westmoreland City VFD, a life member of Penn Township Rescue 6, on the Penn Township Youth Commission, was a Medicare Counselor, was a longtime volunteer for Meals on Wheels. Harry joined the 99th Infantry Division Association and served as president and Archive Chairman. He played a key role in the creation of a 99th exhibit in the Soldiers and Sailors Museum in Pittsburgh.
After a long life of service, Harry McCracken passed away on May 2, 2018 at age 95 in Walden's View Personal Care Home.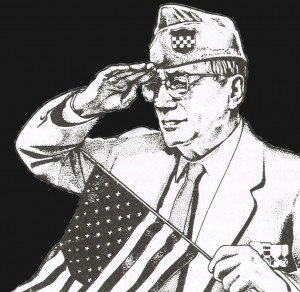 "I feel extremely honored to have served as a medic in the 395th and shall remember and admire the courage and inner strength shown by the men on the Elsenborn Ridge. »