Major General Walter E. Lauer
1893-1966
CG 99th Division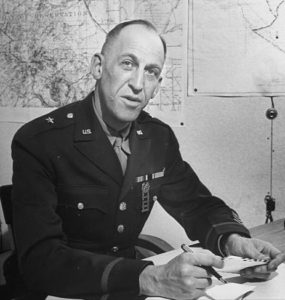 Walter Ernst Lauer was born in Brooklyn, New York, on June 29, 1893. He attended Cornell University, and left in his junior year to enlist in the United States Army for World War I. He completed training at Madison Barracks, New York, and was commissioned a second lieutenant in the Infantry Branch. He attended the School of Small Arms from 1917 to 1918 and after served overseas with the American Expeditionary Force (AEF) on the Western Front in the First Army as an adjutant in III Corps Schools. He was promoted to 1Lt in June 1918 and transferred to the 1st Division.
After war's end, he was assigned to occupation duty in Coblenz, Germany and remained in Europe for four years. Lauer was promoted to captain on 1 July 1920. Upon his return to the United States, Lauer assumed command of the Organized Reserves in where he served in Reading, Pennsylvania from 1923 to 1926. He attended a nine month course at the U.S. Army Infantry School at Fort Benning, Georgia, in 1926 -1927 and was then assigned to the University of Vermont as Assistant Professor of Military Science and Tactics until 1930. From 1930 to 1935, he was stationed at Fort Francis E. Warren, Wyoming, where he served as G-3 and executive officer of the 4th Brigade, then part of the 2nd Infantry Division.
On 1 August 1935, Lauer was promoted to major. During the scholastic year 1936–37. He was Professor of Military Science and Tactics at St. Norbert College, De Pere, Wisconsin. Moving to Fort Leavenworth, Kansas, he attended the Command and General Staff School, graduating on 20 June 1938. From 1939 through 1940, he served first with the 30th Infantry Division at the Presidio of San Francisco, where he was promoted to lieutenant colonel on 18 August 1940, and later at Fort Lewis, Washington, where he was appointed G-4 of the 3rd Infantry Division. On 24 December 1941, just over three weeks after the United States entered World War II, he was promoted to colonel and appointed chief of staff of the 3rd Infantry Division.
In this new position, he took part in planning and leading the 3rd Division's amphibious warfare training and worked out special equipment and special operating procedures for amphibious operations. He landed with the division at Fedala during Operation Brushwood on 8 November 1942, and took part in the Allied invasion of North Africa. When his unit performed so well at Casablanca, Lauer was promoted to the one-star rank of brigadier general on February 3, 1943. He was reassigned as the Assistant Division Commander of the 93rd Infantry Division, an African-American formation, at Fort Huachuca, Arizona. On 2 August 1943, he was given command of the 99th Infantry Division.

Lauer was promoted to Major General on January 15, 1944 and trained his division for deployment overseas. He led the 99th through major battles and campaigns in Belgium and Germany until VE Day.After the war in Europe ended,  he took command of the 66th Infantry Division from August to October 1945; the 80th Infantry Division from October to December, 1945; and the 66th Infantry Division again from December 1945 to its deactivation on October 1946.
Lauer retired from military service on 31 March 1946, but remained in Europe to work for the United Nations Relief and Rehabilitation Administration until early 1947.
He returned to the United States and moved to Monterey, California near Fort Ord, the successor to Gigling Reservation, which he helped found and build in 1941 and 1942.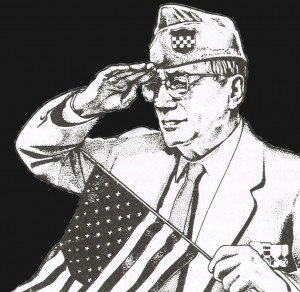 MG Lauer died of cancer on 13 October 1966, at the Fort Ord Army Hospital. He was inurned at the Golden Gate National Cemetery near San Francisco on 15 October 1966