Carlos Martinez Jaime passed away on March 8, 2017 in Vallejo, California, where he resided for the last 57 years. Carlos was born in Aguascalientes City, Aguascalientes, Mexico on November 20, 1925 and immigrated to the United States with his parents and three siblings in 1926.
While a senior at Argentine High School in Kansas City, KS, he petitioned the Draft Board, volunteering for the Army Air Corp Program, but was denied due to his non-citizen status. He was subsequently drafted into wartime service in December of 1943. He attended boot camp and artillery training at Camp Callan in La Jolla, CA. Carlos was awarded his citizenship on April 21, 1944, prior to reassignment to Camp Maxey-Paris, TX for Infantry Training School. Upon completion, he was assigned to Company G of the 393rd Infantry and fought his way to VE Day. Following his service in World War II, he returned to his family in Kansas City to complete his high school education and then to work for the Santa Fe Railroad. It was in Leavenworth, KS where he met his future wife, Maria Molinar. He relocated to California for employment at Mare Island Naval Shipyard and completed his inside machinist apprenticeship, Shop 31. Carlos was promoted to a Nuclear Inspector, Nuclear Inspection Department and eventually retired as a Nuclear Planner and Estimator after nearly 30 years of government civil service. Carlos loved all sports and especially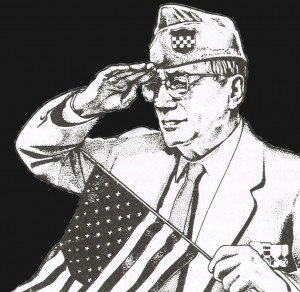 loved attending his grandchildren's sporting and special events. He is survived by his wife, Maria; his children, Margo, Ana, Mario, Luis, Jorge; 12 grandchildren, nine great-grandchildren; many nephews and nieces that he loved dearly. 
(courtesy Mario O. Jaime)