Victor C. Huss
1922-2011
Company B, 324th Engineer Combat Battalion.
Victor C Huss of Wheaton, Illinois, passed away on Thursday, March 31, 2011.
Vic lived a full life that started 89 years earlier, on January 1, 1922, in St. Louis, MO, as the oldest of three sons of Casper and Frances Huss. After his mother unexpectedly died when he was only 14, his father was unable to care for the boys, that fell to Vic.  Eventually, Vic placed his brothers in a boy's home, and continued to help his father.
After graduating from the St Liborius School at St. Louis in 1942, Vic went to work for Banner Iron Works, one of the many government contractors. He was drafted on July 15, 1943 and joined the Air Force for basic training at the gunnery school. His high school education and a high IQ qualified him for the Army Specialized Training Program (ASTP). He was transferred to the engineering school at Baylor University, Waco, TX.
When the program was disbanded, in the spring of 1944, Vic was transferred to the 99th Infantry Division and was assigned to Company B, 324th Engineer Combat Battalion. He went through all major campaigns of the division in Europe and was wounded twice. He was discharged on July 24, 1945.
Shortly after his return, he was engaged by Eagle Iron Work in StLouis. In the evenings, he used the GI bill to study engineer courses at Washington University, St. Louis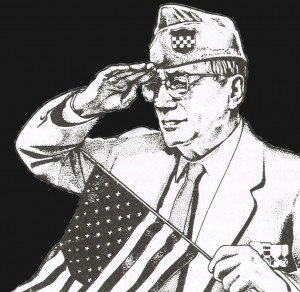 . He received his qualification as structural engineer in 1950.
On 21 June 1947, Vic married his girlfriend Ruth A. Hardy and together raised two children, Elisabeth and John. Vic used to say that they wed on the longest day of the year, and thus had the shortest honeymoon night.