Edwin J. Burke
1924-2018
Co I, 393rd Infantry
Edwin Jay Burke passed away peacefully on July 21, 2018 at the age of 93. Everyone knew him as "Jay".He was born in Flagstaff, Arizona on September 5, 1924 to Simeon and Ola (Harris) Burke. Jay was raised in Albuquerque, New Mexico.
In the Fall of 1942, Jay enrolled in the college of Engineering at the University of New Mexico and volunteered for the Army on December 12, 1942. He was finally called into active service on May 26, 1943 and qualified for the ASTP. He was sent to East Texas State College at Commerce, Texas as student-soldier. Like all his ASTP mates, he was sent to the infantry when the program was stopped in the Spring of 1944. Jay transferred to the 99th Infantry Division and was assigned to Company I, 393rd Infantry. The division moved overseas in September 1944 and Jay found himself sailing for Southampton, UK, on S.S. Argentina, a cruise ship the Army had modified in troop carrier. After several weeks of training, the men embarked on LST's (Landing Ship Tank) and crossed the channel for LeHavre.
« The first step into the water and I dropped my satchel full of rifle grenades. It was down in the water someplace and I wasn't going to shore until I retrieved it. »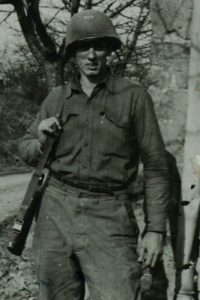 He will fight through all the major battles of his Regiment, including the Battle of the Bulge and the Remagen bridgehead, until VE Day. At war's end, he was transferred to the 1st Division for occupation duty, then to the 79th Division where he served as a clerk in a diplaced person camp near Wildflecken, Germany. By the time, he was S/Sgt but still didn't have enough point to go home. He was again transferred, this time to Czechoslovakia, to the 405th Infantry to run a wire section. He was officially discharged on May 9, 1946 at Fort Bliss, TX.

» I content that I am the most fortunate person in the whole 99th Infantry Division. Not only this instance, but for all the exposure we had on the front line in a rifle company – and no trench-foot, no wounds, not captured, and still living to be a Grandfather. You bet every day after that was a gift! ».
After the war, Jay graduated from the University of New Mexico. He worked with the Corps of Engineers and served as the Resident Engineer for Construction at Fort Bliss, Texas. Jay later joined the NASA and worked at the White Sands Test Facility, New Mexico and the Johnson Space Center in Houston, Texas. He retired from NASA in 1986.
Jay moved his family to Friendswood, Texas in 1971. He was a member of the Masons for 64 years in the Anson Jones Lodge, Friendswood, Texas and the Clovis Lodge, Clovis, New Mexico. He was also a celebrated member of the Steel Bandits of the Arabia Shrine Temple, a local steel drum band and group of "Yellow Bird" enthusiasts. Jay and Louise enjoyed dancing with their club, The 2 Left Feet. For years Jay was a renowned baker, known for his special cookies.It brought him great joy to make his gourmet treats and see how much everyone enjoyed them.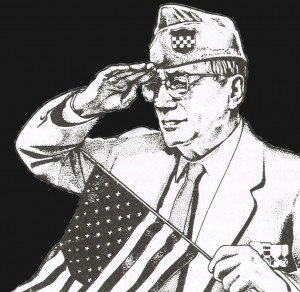 He is survived by his wife of almost 70 years, Mabel "Louise" Burke; along with their three children; Karen and husband Ed McCormick, Merridith and husband Scott Cary, and Bryan and wife Dawn Burke, four grandchildren, Travis and wife Melissa Hodges, Justin Hodges, Megan Cary, Faith and husband John Lane, as well as two great grandchildren, Berkley and James Lane.