2Lt Lyle J. Bouck, Jr (1923 – 2016)
I&R platoon, 394th Infantry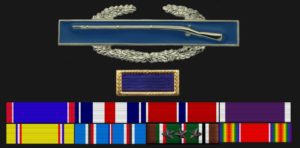 Lyle Joseph Bouck, Jr was born in St Louis on December 17, 1923. At age 14, he enlisted in the National guard and quickly rose in the rank, becoming a Sergeant at 16. At the outbreak of WWII, he volunteered to attend Officers Candidate School and was commissioned in August 1942. The top ten graduates of each class were retained to teach the next class at Fort Benning, and Bouck was assigned to teach small unit defensive tactics. He spent a year at the school before he was transferred to the 99th Infantry Division for deployment to Europe.
He took command of  the Information and Reconnaissance platoon of the 394th Infantry Regiment. His 22 man platoon will become iconic in the History of the 99th Division and the Battle of the Bulge for holding off an entire German battalion at Lanzerath  for nearly an entire day. Bouck and his men were  eventually captured and spent the reminder of the war in captivity.
After the war, he became chiropractor and practiced for nearly fifty years.  The action of his platoon was finally recognized in 1981 and all the men were decorated. Four, including Bouck, received the Distinguished Service Cross, five were awarded the Silver Star and ten the Bronze Star. They became the most decorated platoon in WWII. Lyle was a member of the 99th Division Association and made numerous trips back to Belgium.
Lyle Bouck, Jr died at his home of Sunset Hills, StLouis on December 2, 2016. He was ninety-two.