Norman M. Wade
Company I, 393rd Infantry
(1921-1988)
Third of four sons raised by William and Diana Wade, Norman was born in Chester Hill, a suburb of Philipsburg, PA, on July 31, 1921.
Norman was drafted on Nov 21, 1942 and reported to Altoona, PA, to enter active service on Dec 5, 1942. He joined the newly activated 99th infantry Division at Camp VanDorn, Mississippi, and was assigned to Company I of the 393rd Infantry. Norman fought all major battles of his regiment, including the Battle of the Bulge. After VE Day, he remained brieflt in Germany in occupation duty, he came back home and was officially discharged at Fort Indiantown Gap, PA on Dec 22, 1945.
He finished his scholarship and started to work as chemical operator for Hooker Chemical Co until he retired in 1982. He had moved to Niagara Falls, NY and married Mary on June 16, 1956. Together they raised three sons and two daughters.
Norman was also a former president of the American Legion LaSalle Post 1142 as well as a former member of the Auxiliary Police of Niagara Falls, committeeman and president of the LaSalle men's Republican Club.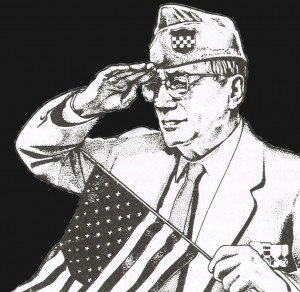 Norman Merrill Wade passed away on March 9, 1988 after a brief illness. He is buried in Acacia Park cemetery, North Tornawada, NY.
Photos & information – courtesy Harry Wade